By Jessica
Teen Advisory Group member
---
Spider-Man: Homecoming was released earlier this year and nerds and geek alike fell in love with all the characters.
I, personally, don't have an opinion about the movie yet because I haven't watched it (I know. Shame on me.). However, I have a major celebrity crush on Tom Holland. I mean, who doesn't?
In celebration of the movie (yes, we know it's a little late), December's Random Fandom will be Spider-Man themed! Because we know there are a lot of fans of the older Spider-Man movies, this RF is not limited to the recent movie.
As always…
A Quick Overview of the Program:
Who: you and your buddies
What: Spider-Man Random Fandom
When: Thursday, December 14 (4:00-5:30)
Where: Flower Mound Public Library in the Program Room (near the restrooms)
3030 Broadmoor Ln.
Flower Mound, TX 75022
Activities:
To start off, there will be a trivia in related to Spider-Man. From what I heard, it might be a Kahoot, so be prepared to jam out to the bomb Kahoot soundtrack!
There will also be a silly string target practice outside where players have cans of silly string to spray at villains. The silly string will act like Spider-Man's webs that shoot out of his wrists. Whoever successfully defeats all the villains in the shortest amount of time wins. Just remember, do not spray your fellow players with the silly string!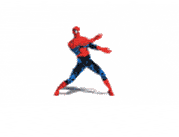 In honor of the viral .gif of Spider-Man dancing (pictured above) that supposedly can go with any music, there will be a dance. It might be a dance battle. It might be just a dancing fest. Who knows? You'll have to attend to find out!
Just like in the beginning of the movie, there will be a task to steal Captain America's shield! On top of that, there will be a mini scavenger hunt in search for Stan Lee, who made a cameo in the recent movie.
And because we're a bunch of nerds, we are also going to play Superfight. I'm going to try and TL;DR the rules of the game:
Basically, there are a stack of white cards and a stack of black cards. The white cards have characters on them (ex. ninja) while the black cards have powers on them (ex. ability to freeze things). When it's their turn, the player picks up three white and three black cards. They have to choose one white and one black one, set them face down, and return the remaining unused cards into the deck. The next player does the same. Then both players turns over the chosen white card (to reveal their character) and then have to choose a black card from the deck at random to add to their skill. Then they reveal everything to the table (the rest of the players waiting their turn) and have to plead their case as to who would win in an one-on-one battle. Whoever the table chooses wins the round. If you want to official rules of the game (because I know I'm terrible at explaining things), click here to go to the official rules page. All you need to know is that the game is tons of fun.
In addition to all the fun games, there will be web serum punch served (don't worry, you don't have to be bitten by a radioactive spider to enjoy it) and maybe get to watch the Honest Trailer for Spider-Man: Homecoming.
It doesn't matter than you've never watched a Spider-Man movie in your whole entire life (like myself). You can still attend Random Fandom! It's just a program to spend time with like-minded people and have fun. Don't forget to mark December 14th on your calendar and hope to see you there!
– Jessica, your friendly neighborhood nerd